Download Bihar Ek Parichay 2019 – The Most Expected Study Material for BPSC and BSSC Examinations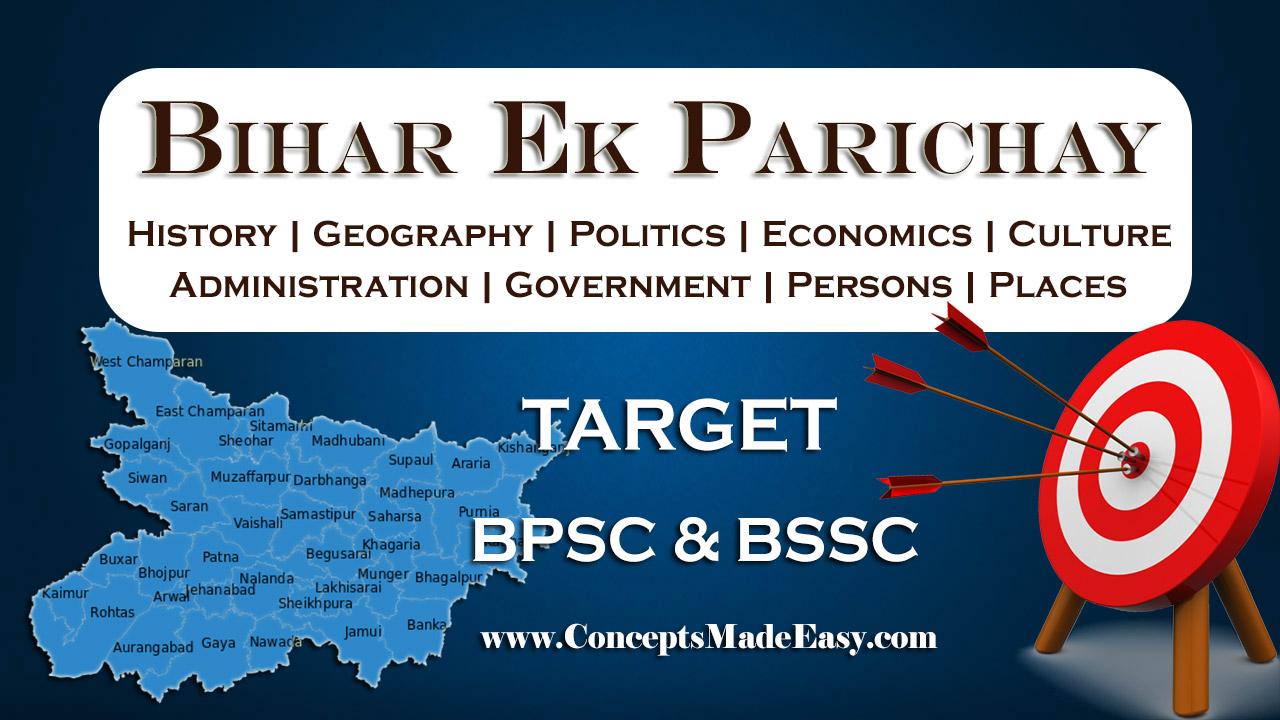 Download Bihar Ek Parichay 2019 – The Most Expected Study Material for BPSC and BSSC Examinations
Bihar is a state in eastern India. It is the twelfth-largest Indian state, with an area of 94,163 sq km (36,357 sq mi). The third-largest state by population, it is contiguous with Uttar Pradesh to its west, Nepal to the north, the northern part of West Bengal to the east, with Jharkhand to the south. The Bihar plain is split by the river Ganges, which flows from west to east. Three main regions converge in the state: Magadh, Mithila, and Bhojpur.
On 15 November 2000, southern Bihar was ceded to form the new state of Jharkhand. Only 11.3% of the population of Bihar lives in urban areas, which is the lowest in India after Himachal Pradesh. Additionally, almost 58% of Bihari are below the age of 25, giving Bihar the highest proportion of young people of any Indian state.
In ancient and classical India, the area that is now Bihar was considered a centre of power, learning, and culture. From Magadha arose India's first empire, the Maurya empire, as well as one of the world's most widely adhered-to religions, Buddhism. Magadha empires, notably under the Maurya and Gupta dynasties, unified large parts of South Asia under a central rule. Another region of Bihar is Mithila which was an early centre of learning and the centre of the Videha kingdom.
History:
The Haryanka dynasty, founded in 684 BC, ruled Magadha from the city of Rajgriha (modern Rajgir). The two well-known kings from this dynasty were Bimbisara and his son Ajatashatru, who imprisoned his father to ascend the throne. Ajatashatru founded the city of Pataliputra which later became the capital of Magadha. He declared war and conquered the Vajji. The Haryanka dynasty was followed by the Shishunaga dynasty. Later the Nanda Dynasty ruled a vast tract stretching from Bengal to Punjab.
The Nanda dynasty was replaced by the Maurya Empire, India's first empire. The Maurya Empire and the religion of Buddhism arose in the region that now makes up modern Bihar. The Mauryan Empire, which originated from Magadha in 325 BC, was founded by Chandragupta Maurya, who was born in Magadha. It had its capital at Pataliputra (modern Patna). The Mauryan emperor, Ashoka, who was born in Pataliputra (Patna) is believed to be one of the greatest rulers in the history of the world.
The Gupta Empire, which originated in Magadha in 240 AD, is referred as the Golden Age of India in science, mathematics, astronomy, commerce, religion, and Indian philosophy. Bihar and Bengal was invaded by Rajendra Chola I of the Chola dynasty in the 11th century.
Buddhism in Magadha went into decline due to the invasion of Muhammad bin Bakhtiyar Khalji, during which many of the viharas and the famed universities of Nalanda and Vikramashila were destroyed. It was claimed that thousands of Buddhist monks were massacred during the 12th century. D. N. Jha suggests, instead, that these incidents were the result of Buddhist-Brahmin skirmishes in a fight for supremacy. After fall of Pala Empire, Chero dynasty ruled some parts of Bihar from 12th century to 16th century till Mughal rule. In 1540, the great Pathan chieftain, Sher Shah Suri, from Sasaram, took northern India from the Mughals, defeating the Mughal army of Emperor Humayun. Sher Shah declared Delhi his capital.
From the 11th century to the 20th century, Mithila was ruled by various indigenous dynasties. The first of these were the Karnatas, followed by the Oiniwar dynasty and finally Raj Darbhanga. It was during this period that the capital of Mithila was shifted to Darbhanga.
The tenth and the last Guru of Sikhism, Guru Gobind Singh was born in Patna.
Farmers in Champaran had revolted against indigo cultivation in 1914 (at Pipra) and 1916 (Turkaulia). In April 1917, Mahatma Gandhi visited Champaran, where Raj Kumar Shukla had drawn his attention to the exploitation of the peasants by European indigo planters. The Champaran Satyagraha that followed received support from many Bihari nationalists, such as Rajendra Prasad and Anugrah Narayan Sinha.
In the northern and central regions of Bihar, the Kisan Sabha (peasant movement) was an important consequence of the independence movement. It began in 1929 under the leadership of Swami Sahajanand Saraswati who formed the Bihar Provincial Kisan Sabha (BPKS), to mobilise peasant grievances against the zamindari attacks on their occupancy rights. The movement intensified and spread from Bihar across the rest of India, culminating in the formation of the All India Kisan Sabha (AIKS) at the Lucknow session of the Indian National Congress in April 1936, where Saraswati was elected as its first president.
Bihari migrant workers have faced violence and prejudice in many parts of India, such as Maharashtra, Punjab and Assam after independence.
Geography and Climate:
Bihar has a diverse climate. Its temperature is subtropical in general, with hot summers and cold winters. Bihar is a vast stretch of fertile plain. It is drained by the Ganges River, including its northern tributaries Gandak and Koshi, originating in the Nepal Himalayas and the Bagmati originating in the Kathmandu Valley that regularly flood parts of the Bihar plains. The total area covered by the state of Bihar is 94,163 km2 (36,357 sq mi). the state is located between 24°-20′-10″ N ~ 27°-31′-15″ N latitude and between 83°-19′-50″ E ~ 88°-17′-40″ E longitude. Its average elevation above sea level is 173 feet (53 m).
The Ganges divides Bihar into two unequal halves and flows through the middle from west to east. Other Ganges tributaries are the Son, Budhi Gandak, Chandan, Orhani and Phalgu. Though the Himalayas begin at the foothills, a short distance inside Nepal and to the north of Bihar, the mountains influence Bihar's landforms, climate, hydrology and culture. Central parts of Bihar have some small hills, for example, the Rajgir hills. To the south is the Chota Nagpur plateau, which was part of Bihar until 2000 but now is part of a separate state called Jharkhand.
Bihar has notified forest area of 6,845 km2 (2,643 sq mi), which is 7.27% of its geographical area. The sub Himalayan foothill of Someshwar and the Dun ranges in the Champaran district are another belt of moist deciduous forests. These also consist of shrubs, grass and reeds. Here the rainfall is above 1,600 millimetres (63 in) and thus promotes luxuriant Sal forests in the area. The most important trees are Shorea Robusta, Sal Cedrela Toona, Khair, and Semal. Deciduous forests also occur in the Saharsa and Purnia districts.[66] Shorea robusta (sal), Diospyros melanoxylon (kendu), Boswellia serrata (salai), Terminalia tomentose (asan), Terminalia bellerica (bahera), Terminalia Arjuna (arjun), Pterocarpus marsupium (paisar), Madhuca indica (mahua) are the common flora across the forest of Bihar.
Valmiki National Park, West Champaran district, covering about 800 km2 (309 sq mi) of forest, is the 18th Tiger Reserve of India and is ranked fourth in terms of density of tiger population. It has a diverse landscape, sheltering rich wildlife habitats and floral and faunal composition, along with the prime protected carnivores. Vikramshila Gangetic Dolphin Sanctuary in Bhagalpur region is a sanctuary of the endangered Gangetic dolphin. Other notable sanctuaries include Kaimur Wildlife Sanctuary, Bhimbandh Wildlife Sanctuary and Gautam Buddha Wildlife Sanctuary.
Other species include leopard, bear, hyena, bison, chital and barking deer. Crocodiles (including muggers) and Gangetic turtles can be found in the river systems. Many varieties of local bird species as well as migratory birds can be seen in natural wetlands of Kanwar Lake Bird Sanctuary, Baraila lake, Kusheshwar Nath Lake, Udaypur lake. Nagi Dam and Nakti Dam have been declared as bird sanctuary.
Government of Bihar:
The Government of Bihar, known locally as the State Government, is the supreme governing authority of the Indian state of Bihar and its 9 divisions which consist of 38 districts . It consists of an executive, led by the Governor of Bihar, a judiciary and legislative branches.
Like other states in India, the head of state of Bihar is the Governor, appointed by the President of India on the advice of the central government. His or her post is largely ceremonial. The Chief Minister is the head of government and is vested with most of the executive powers. Patna is the capital of Bihar.
The Patna High Court, located in Patna, has jurisdiction over the whole state.
The present legislative structure of Bihar is bicameral.The Legislative houses are the Bihar Vidhan Sabha (Bihar Legislative Assembly) and Bihar Vidhan Parishad (Bihar Legislative Council). Their normal term is five years, unless dissolved earlier.
Administration of Bihar:
The state of Bihar in India is divided into 9 divisions.
Patna
Headquarters: Patna
Number of Districts : 6
Names of Districts : Patna, Nalanda, Bhojpur, Rohtas, Buxar and Kaimur
Population (2011) : 17,734,733
Tirhut
Headquarters: Muzaffarpur
Number of Districts : 6
Names of Districts : West Champaran, East Champaran, Muzaffarpur, Sitamarhi, Sheohar and Vaishali.
Population (2011) : 21,356,045
Saran
Headquarters: Chhapra
Number of Districts : 3
Names of Districts : Saran, Siwan and Gopalganj.
Population (2011) : 9,819,311
Darbhanga
Headquarters: Darbhanga
Number of Districts : 3
Names of Districts : Darbhanga, Madhubani and Samastipur.
Population (2011) : 15,652,797
Kosi
Headquarters: Saharsa
Number of Districts : 3
Names of Districts : Saharsa, Madhepura and Supaul.
Population (2011) : 6,120,117
Purnia
Headquarters: Purnia
Number of Districts : 4
Names of Districts : Purnia, Katihar, Araria and Kishanganj.
Population (2011) : 10,838,525
Bhagalpur
Headquarters: Bhagalpur
Number of Districts : 2
Names of Districts : Bhagalpur and Banka
Population (2011) : 5,061,565
Munger
Headquarters: Munger
Number of Districts : 6
Names of Districts : Munger, Jamui, Khagaria, Lakhisarai, Begusarai and
Sheikhpura
Population (2011) : 9,362,742
Magadh
Headquarters: Gaya
Number of Districts : 5
Names of Districts : Gaya, Nawada, Aurangabad, Jehanabad and Arwal
Population (2011) : 10,931,018
Economy of Bihar:
Gross state domestic product of Bihar for the year 2013/2014 has been around 3683.37 billion INR. By sectors, its composition is:
Agriculture = 22%
Industry = 5%
Services = 73%.
Bihar is the fastest growing state in terms of gross state domestic product (GSDP), clocking a growth rate of 17.06% in FY 2014–15. The economy of Bihar was projected to grow at a compound annual growth rate (CAGR) of 13.4% during 2012–2017, i.e. the 12th Five-Year Plan. Bihar has witnessed strong growth in per capita net state domestic product (NSDP). At current prices, per capita NSDP of the state grew at a CAGR of 12.91 per cent during 2004–05 to 2014–15. Bihar's per capita income went up by 40.6 per cent in the financial year 2014–15.
Language of Bihar:
Hindi and Urdu are the official languages of the state, whilst the majority of the people speak one of the Bihari languages – Bhojpuri, Magadhi, Maithili or Angika. Bhojpuri and Magahi are sometimes considered dialects of Hindi, while Maithili and Angika are not. Maithili is also one of the recognised regional languages of India as per the Eighth Schedule of the Constitution of India. Many speakers of the Bihari languages often conflate their languages with Hindi in the census, which is mainly why the proportion of Hindi speakers is so large when in reality it is mainly other languages.
Literature of Bihar:
In the field of literature, Bihar has produced a number of writers in its regional languages like Bhojpuri Maithili language, Magahi language, Angika and Bajjika including Bhikhari Thakur, Heera Dom, Viveki Rai etc are writers of Bhojpuri, Vidyapati in maithilli. Besides its regional languages, Bihar also have produced writes in Hindi including Raja Radhika Raman Prasad Sinha, Acharya Ramlochan Saran, Acharya Shivpujan Sahay, Divakar Prasad Vidyarthy, Ramdhari Singh 'Dinkar', Ram Briksh Benipuri, Phanishwar Nath 'Renu', Gopal Singh "Nepali", Ramesh Chandra Jha and Baba Nagarjun. Writer and Buddhist scholar Mahapandit Rahul Sankrityayan was born in Uttar Pradesh but spent his life in the land of Lord Buddha, i.e., Bihar. Hrishikesh Sulabh is a short story writer, playwright and theatre critic. Arun Kamal and Aalok Dhanwa are poets.
Paintings of Bihar:
There are several traditional styles of painting practiced in Bihar. One is Mithila painting, a style of Indian painting used in the Mithila region of Bihar. Traditionally, the painting was one of the skills that was passed down from generation to generation in the families of the Mithila region, mainly by women. Painting was usually done on walls during festivals, religious events, and other milestones of the life cycle, like birth, Upanayanam (the sacred thread ceremony), and marriage.
Mithila painting was traditionally done on huts' freshly plastered mud walls, but today it is also done on cloth, handmade paper, and canvas. Famous Mithila painters have included Smt Bharti Dayal, Mahasundari Devi, the late Ganga Devi, and Sita Devi.
Mithila painting is also called Madhubani art. It mostly depicts human beings and their association with nature. Common scenes illustrate deities like Krishna, Ram, Shiva, Durga, Lakshmi, and Saraswati from ancient epics. Natural objects like the sun, moon, and religious plants like Tulsi are also widely painted, along with scenes from the royal court and social events like weddings.
Click here to download Jharkhand State Superfast GK in Hindi language
Click here to download Jharkhand Spardha GK Magazine latest edition in Hindi language
Click here to download Speedy Current Affairs Magazine Latest Edition 2018
Click here to download Speedy Magazine Latest Edition 2018 for Railways, SSC, BPSC, JSSC, BSSC, Bank and other State Exams
Click here to download Pratiyogita Darpan July 2018 Latest Edition
Click here to download E-Drishti Magazine June 2018 Latest Edition
Click here to download Science NCERT Books from class 6 to 10 for UPSC IAS and State PSC Exam Preparation
Click here to download Most important General Knowledge Book for BPSC, BSSC, Bihar SI and Bihar CDPO Exam
Download Bihar Ek Parichay 2019 – The Most Expected Study Material for BPSC and BSSC Examinations
Download this article as PDF File
Watch our Video on Youtube Channel 'Concepts Made Easy'. Click here to watch.
Visit our website for more articles: www.GoodMorningQuotes.in
Visit our website for more articles: www.CricketEvents.in
Visit our website for more articles: www.ConceptsMadeEasy.com
Visit our website for more articles: www.ShineITSolutions.in
Visit our website https://ExamGuide.ConceptsMadeEasy.com for Free Exam Guidance
Visit our website https://ExamResults.ConceptsMadeEasy.com for Exam Results
Visit our website https://Jobs.ConceptsMadeEasy.com for Government Job and Career guidance
Visit our website https://StudyMaterial.ConceptsMadeEasy.com for Download Free Study Material
Visit our website https://WhatsAppStatus.GoodMorningQuotes.in for Sharing latest WhatsApp Status
Visit our website https://AmazingArticles.GoodMorningQuotes.in for reading amazing articles