Cabinet Ministers of Bihar – Download the Most Important Study Material on Cabinet Ministers of Bihar for BPSC and BSSC Examinations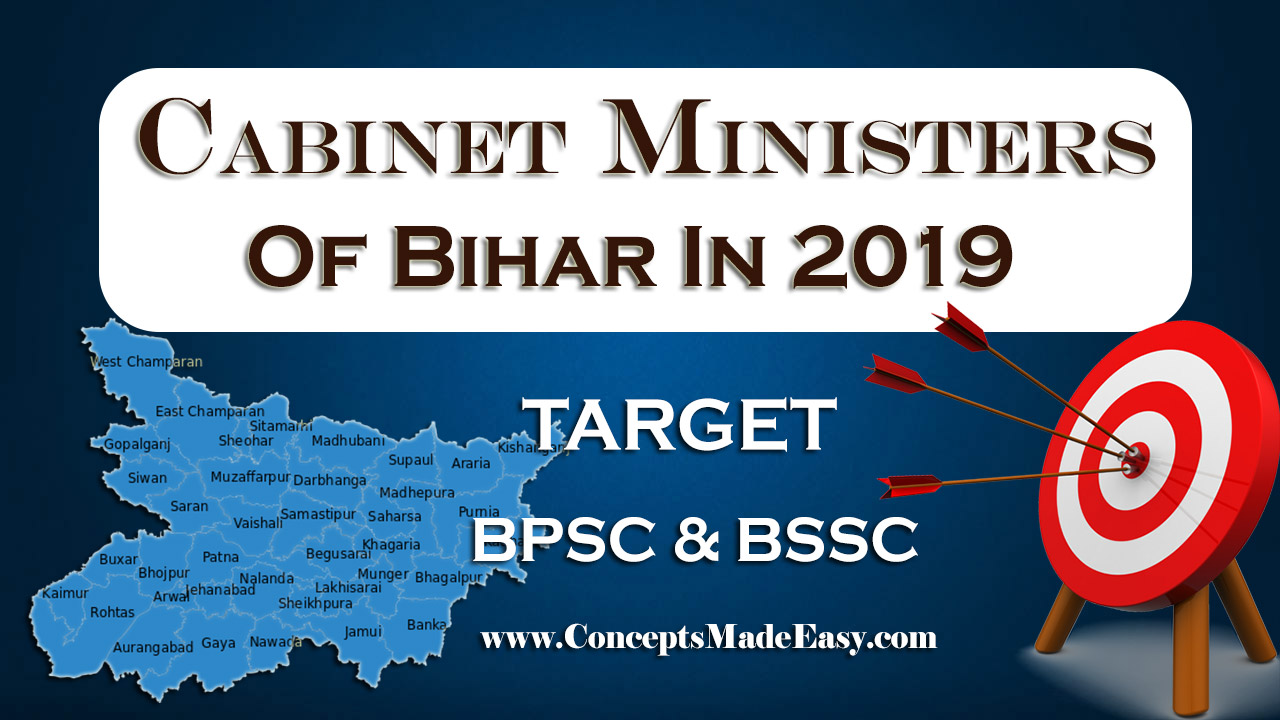 Cabinet Ministers of Bihar – Download the Most Important Study Material on Cabinet Ministers of Bihar for BPSC and BSSC Examinations
Cabinet Ministers of Bihar
In cabinet, 19 ministers including the Chief Minister are from JD(U) and 14 ministers are from BJP with BJP leader Sushil Kumar Modi as the Deputy Chief Minister.
Nitish Kumar
Chief Minister of Bihar, Minister of General Administration, Home, Cabinet Secretariat, Vigilance and Elections. Other departments not allocated to a Minister.
JD(U)
Sushil Kumar Modi
Deputy Chief Minister, Minister of Finance, Commercial Taxes, Environment & Forest and Information Technology.
BJP
Ashok Choudhary
Minister of Building construction.
JD(U)
Bijendra Prasad Yadav
Minister of Energy, Excise & Prohibition.
JD(U)
Pramod Kumar
Minister of Art, Culture and Youth affairs.
BJP
Brij Kishore Bind
Minister of Mines & Geology.
BJP
Dr. Prem Kumar
Minister of Agriculture, Animal and Fish resources.
BJP
Sanjay Jha
Minister of Water Resources.
JD(U)
Neeraj Kumar
Minister of Information and public relations.
JD(U)
Jai Kumar Singh
Minister of Science & Technology.
JD(U)
Ram Narayan Mandal
Minister of Revenue & Land Reforms.
BJP
Kapil Deo Kamat
Minister of Panchayati Raj.
JD(U)
Ramesh Rishidev
Minister of SC/ST Welfare.
JD(U)
Khursheid alias Feroze Ahmad
Minister of Minority Welfare.
JD(U)
Rana Randhir
Minister of Co-operative.
BJP
Krishna Kumar Rishi
Minister of Tourism.
BJP
Santosh Kumar Nirala
Minister of Transport.
JD(U)
Krishan Nandan Prasad Verma
Minister of Education.
JD(U)
Shailesh Kumar
Minister of Rural Works.
BJP
Madan Sahni
Minister of Food & Consumer Protection.
JD(U)
Shrawan Kumar
Minister of Rural Development and Parliamentary Affairs.
JD(U)
Maheshwar Hazari
Minister of Planning and development.
JD(U)
Suresh Kumar Sharma
Minister of Urban Development & Housing.
BJP
Mangal Pandey
Minister of Health.
BJP
Vijay Kumar Sinha
Minister of Labour Resources.
BJP
Vinod Kumar Singh
Minister of Backward classes and extremely backward classes welfare.
BJP
Nand Kishore yadav  Minister of Road Construction.
BJP
Vinod Narayan Jha
Minister of Public Health & Engineering.
BJP
Shyam Rajak
Minister of Industries.
JD(U)
Narendra Narayan Yadav
Minister of Law and Minor water resources.
JD(U)
Bima Bharti
Minister of Sugarcane industries.
JD(U)
Ramsevak Singh
Minister of Social welfare.
JD(U)
Lakshmeshwar Rai
Laukaha Minister of Disaster management.
JD(U)
Click here to download Jharkhand State Superfast GK in Hindi language
Click here to download Jharkhand Spardha GK Magazine latest edition in Hindi language
Click here to download Speedy Current Affairs Magazine Latest Edition 2018
Click here to download Speedy Magazine Latest Edition 2018 for Railways, SSC, BPSC, JSSC, BSSC, Bank and other State Exams
Click here to download Pratiyogita Darpan July 2018 Latest Edition
Click here to download E-Drishti Magazine June 2018 Latest Edition
Click here to download Science NCERT Books from class 6 to 10 for UPSC IAS and State PSC Exam Preparation
Click here to download Most important General Knowledge Book for BPSC, BSSC, Bihar SI and Bihar CDPO Exam
Cabinet Ministers of Bihar – Download the Most Important Study Material on Cabinet Ministers of Bihar for BPSC and BSSC Examinations
Download this article as PDF File
Watch our Video on  Youtube Channel 'Concepts Made Easy'. Click here to watch.
Visit our website for more articles: www.GoodMorningQuotes.in
Visit our website for more articles: www.CricketEvents.in
Visit our website for more articles: www.ConceptsMadeEasy.com
Visit our website for more articles: www.ShineITSolutions.in
Visit our website https://ExamGuide.ConceptsMadeEasy.com for Free Exam Guidance
Visit our website https://ExamResults.ConceptsMadeEasy.com for Exam Results
Visit our website https://Jobs.ConceptsMadeEasy.com for Government Job and Career guidance
Visit our website https://StudyMaterial.ConceptsMadeEasy.com for Download Free Study Material
Visit our website https://WhatsAppStatus.GoodMorningQuotes.in for Sharing latest WhatsApp Status
Visit our website https://AmazingArticles.GoodMorningQuotes.in for reading amazing articles